Best Price Wire Rope Construction Electric Hoist
10t CD1 electric hoist is a small-sized lifting equipment, which can be mounted on single beam crane, overhead crane, gantry crane and jib crane. With slight modification, 10t CD1 electric hoist can be also used as winch.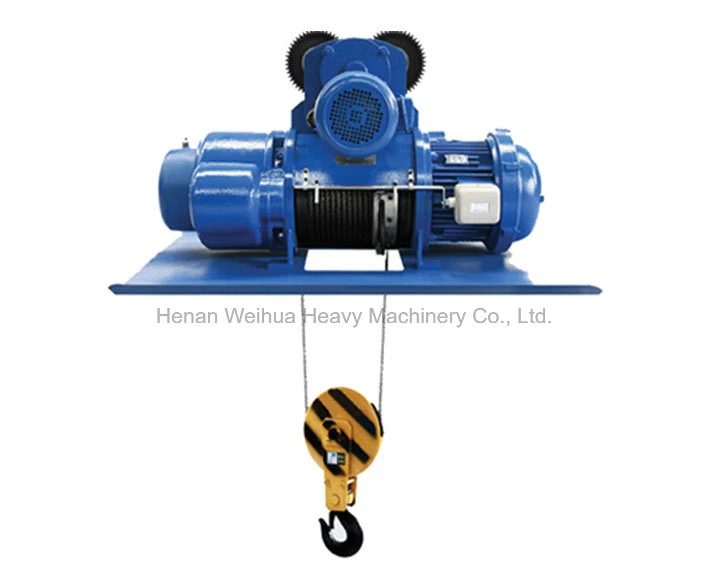 10t CD1 electric hoist is widely used in factories, mines, harbors, warehouses, cargo storage areas and shops. 10t CD1 electric hoist has only one normal speed, which can satisfy normal application. Model MD1 hoist has 2 working speeds: normal and low speed. At low speed, it can do precise loading and unloading, mounding of sand box, maintenance of machine tools.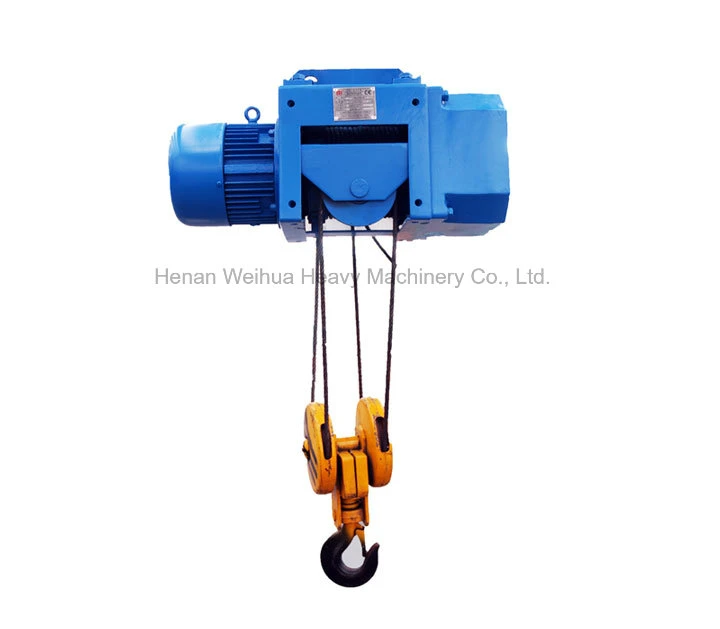 Specifications:
Type

CD1(MD1)

Capacity (t)

0.25

0.5

1

2

3

5

10

16

Lifting Height (m)

3~9

6~12

6~30

6~30

6~30

6~30

9~30

9~30

Lifting Speed (m/min)

8(0.8/8)

7(0.7/7)

3.5(0.35/3.5)

Travel Speed (m/min)

20

20/30

18

Rail

10-20b

16-28b

20a-32c

25a-50b

32b-50b

32b-63c

Work Duty

M4

Power

3PH AC 380V 50Hz
Sale Performance:
Company

Export Project list

Specification

Unit

England Sheffield forging masters

UK

QD250/15t

2

Alstom Power Service Ltd

Ash grab replacment

MZ10t-14.5m A7

1

Aker Solutions, US

Toromocho, Peru

QD50/10t-50m A5
QD10t-11m A5
QD35/5t-20m A5
BMG35/10-13m A5
LD10t-17m A5
LD3t-15m A5

8

China National Machinery and Equipment Import and Export Corporation

Indian Jurala hydropower station project

QD160/50t-19m
QD 50/10t19m A4

2

China National Machinery and Equipment Import and Export Corporation

Burmese KABAUNG hydropower station project

QD80/20t30m A3
QD 80/20t28.5m A4

2

China National Machinery and Equipment Import and Export Corporation

Indonesian North Sumatra Labuhan Angin

BMH 20t13m A3
QD 80/20t28.5m A3

2

China National Machinery and Equipment Import and Export Corporation

Turkey SILOP power plant project

QD 80/20t31.1m A3
LH 16/5t16.5m A5

2

Harbin power engineering Co., Ltd

Vietnam CaoNgan Coal-fired Power Plant

QD75/20t-28.5m A3
QD16/3.2t-10.5m A3
QZ5t-19.5m A6
QZ5t-31.5m A6

5

Sinohydro Corporation

Sudan Merowe Dam Project

MDG30/10t-20m
MDG20/5t-30m

2

China Wanbao Engineering Corporation Jinchuan Group construction company

Congo (DRC) cobalt copper smelter project

QZ5t-10.5m
QZ5t-22.5m

4

Sinohydro Corporation

Malaysia Bakun power station

MG25/5t-22m
MH10t-18m
MH10t-22m

3

Sinohydro Corporation

Algeria Mina irrigation expansion project

MH12t-16m
MH10t-16m
MH5t-16m

4

China National Electric Equipment Corporation

Thailand Thaisaree6M Rice husk power plant

LH16/3.2t-13.5m

1

China National Machinery and Equipment Import and Export Corporation

Hindi Sadat power plant

QD40/10-19.5m

1

CITIC International Cooperation Company

Iran Zaland project

SDXQ-3t-8m
SDXQ-3t-9m
SDQ10t-10.5m
LX5t-4.6m
LDA3t-10.5m

18

China Triumph International Engineering Co., Ltd.

Bangladesh NGIL float glass production line

LDA5t-22.5m
LDA5t-16.5m

3

China Metallurgical Construction Group, Baotou Iron and Steel Design Research Institute

MUGHAL Pakistan 6MVA submerged arc furnace steel plant project

QD16/3.2t-13.5m
LDA2t-13.5m
LX2t-6m

5

Handan China Metallurgical Construction Co., Ltd.

Brazil COSIPAR project

LDA10t-7.5m
LX5t-3.5m
CD10t-12m

18

East West Marketing Pty Ltd.

Australia

LH16t-16.834m
HD10t-16.834m

2




Our Team&Service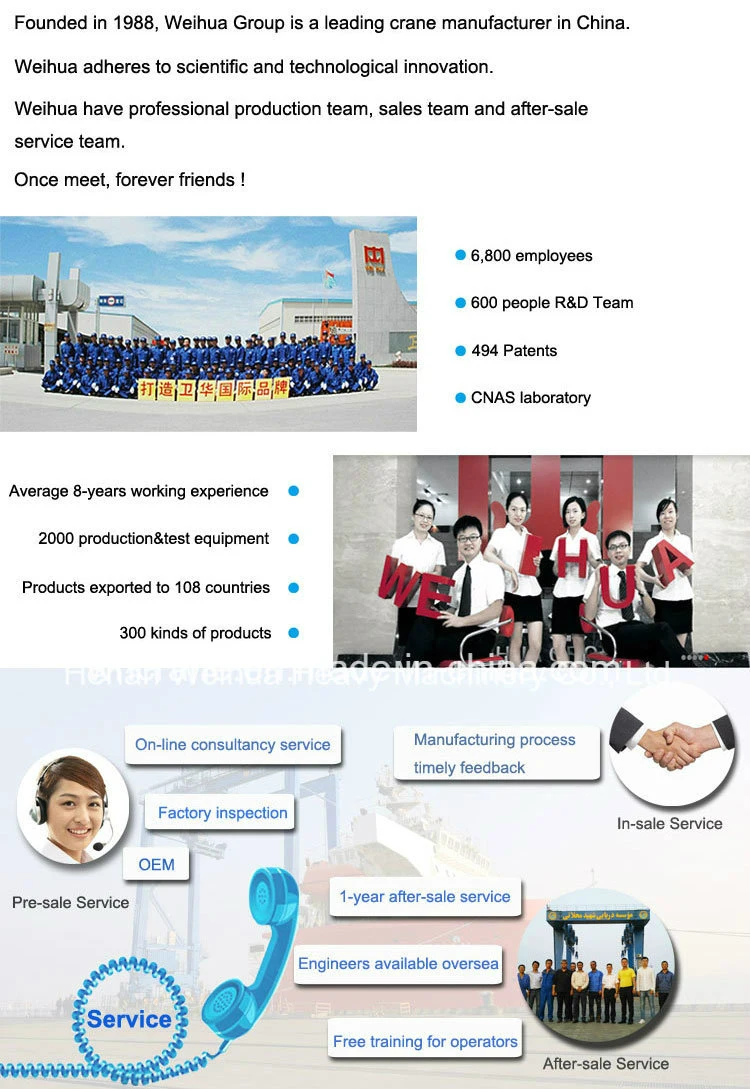 Things that you may want to know about us !
Founded in 1988, Weihua Group is a leading crane manufacturer in China. Weihua has been committed to heavy machinery researching and marketing. The main product covers lifting machinery, port machinery, mining machinery and construction machinery, etc. The whole coverage of Weihua Group is 3,420,000 square meters with 6,800 employees.
Weihua adheres to scientific and technological innovation and owns a 600-people R&D team, 494 patents, CNAS laboratory, etc. For the cranes, Weihua have made many breakthroughs which include anti-sway system, CNC high precision positioning system, self-climbing crane for wind power maintenance and so on.
In recent years, Weihua cranes have been employed to serve China's Aerospace Engineering projects such as launching of Shenzhou spacecraft, Long March carrier rockets and Tiangong space laboratory. You can also find Weihua products in the fields of manufacturing, metallurgy, nuclear power, railway,port, petrochemical and wind power.
Weihua products also find its places in the global markets and won much praise from108 countries like America, Japan, Russia, Singapore, Korea, Thailand, Malaysia, Mexico, etc.
Our success comes from customers' success.
Welcome to Weihua !