Hs-CB Type 10000kg 3meter manual Chain Hoist
HSCB chain block features:
1.Gear Case and Hand Wheel Cover Resistant to External Shocks:
Both sides of the hoist are covered with a thick steel gear case, processed with the highest level technology, and with a strengthened wheel cover. They have an ideal shape and rigidity to maintain bearing alignment and withstand external shock.
2.Double Enclosure to Keep Out Rainwater and Dust:
The braking mechanism, which makes up heart of the hoist, is enclosed in a double cover: the wheel and the brake covers. These protective covers not only keep out weather elements but also help to prevent mud and dust from entering internal mechanisms.
3.Double Pawl Spring Mechanism to Further Increase of Sureness:
In case one of Pawl spring is damaged, the other maintains its functions. This mechanism further increases sureness.
4.Sure and Reliable Mechanical Brake:
USZHY's dry type asbestos-free Mechanical Brake ensures strong brake performance.
5.Hooks for Easy Work:
Specially heat treated top and bottom hooks have enough strength and toughness for hard job. The design of the bottom hook, with relatively large dimensions, makes it easy to stabilize a load in proper position.
Bottom Yoke with Protecting Guard features a guard protecting the chain pin & nut from damage, enhancing safety.
6.Bearing Mechanism to Increase Mechanical Efficiency:
Use of unique ball and needle bearings remarkably increases mechanical efficiency and produces high output power with minimum manual input.
7.Load Chain Guide Mechanism:
Chain guide mechanism in flanged load sheave and guide roller facilitate smooth movement of the load chain.
8.Stopper Prevents Excessive Lowering:
9.Ultra Strong Load Chain (Nickel plated)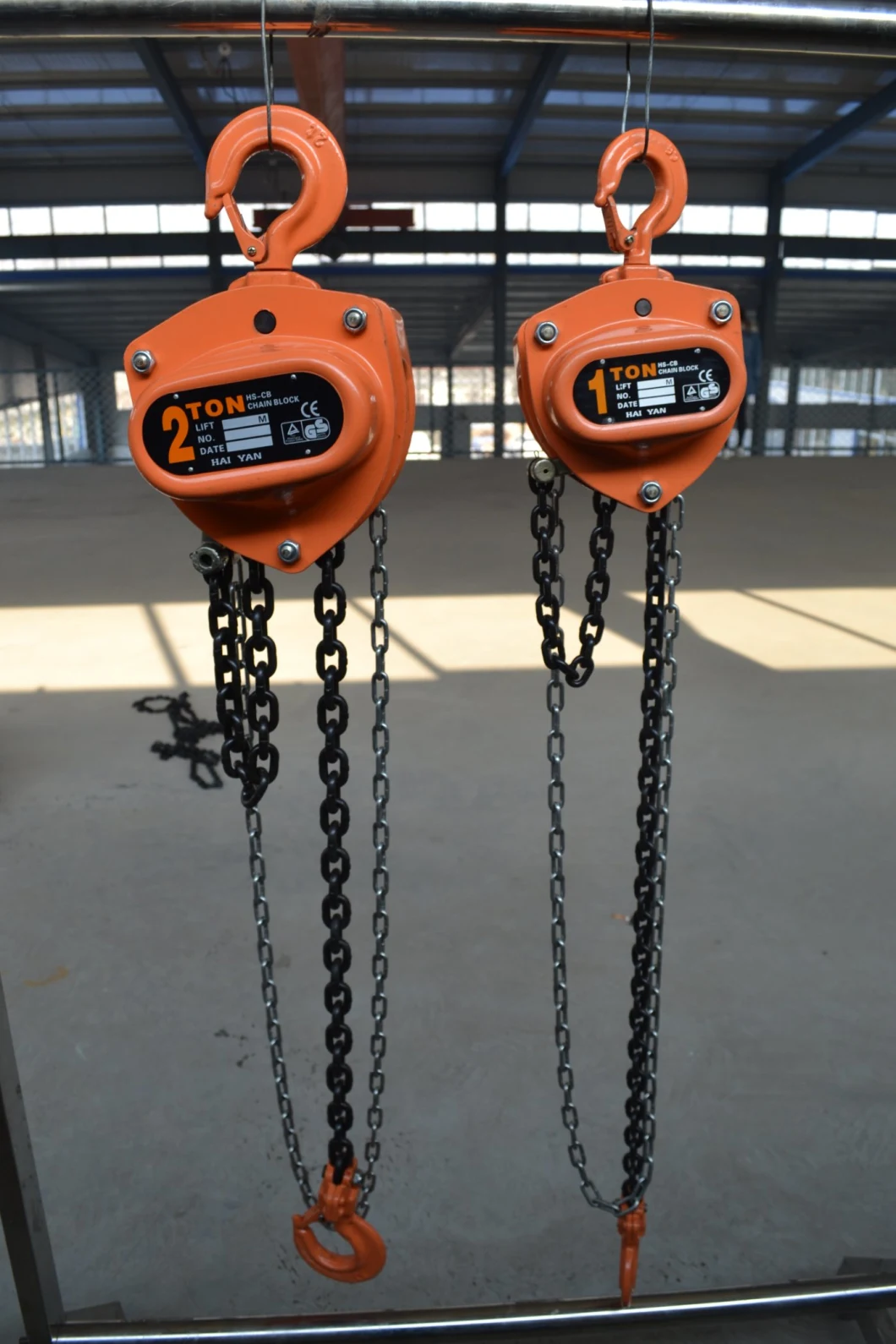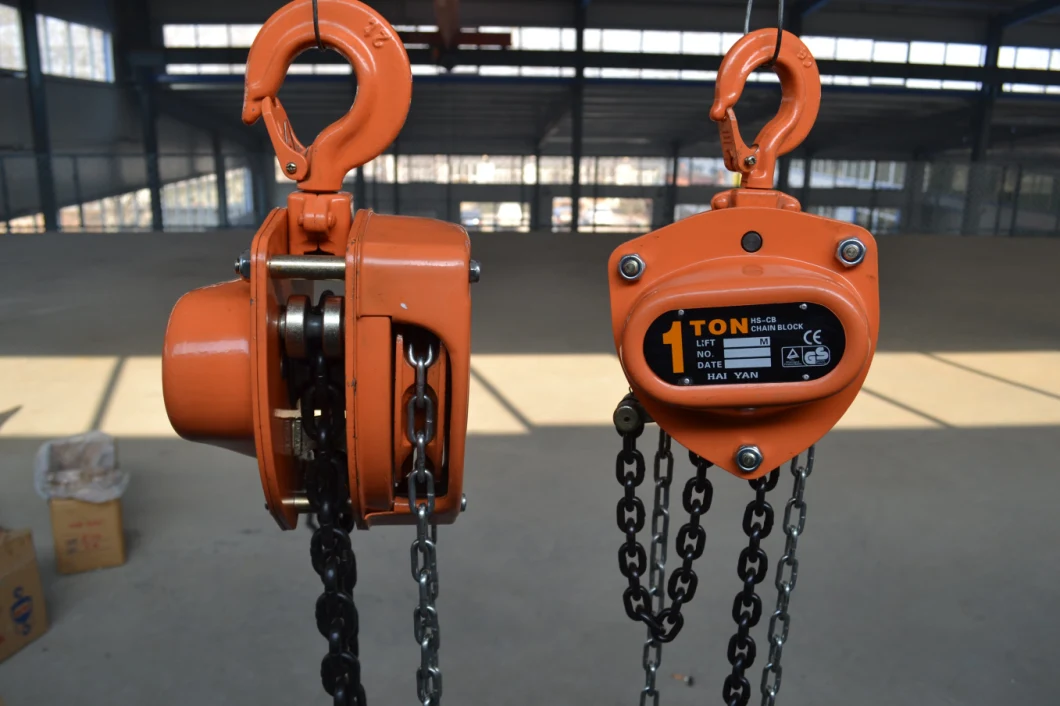 VD chain block pics: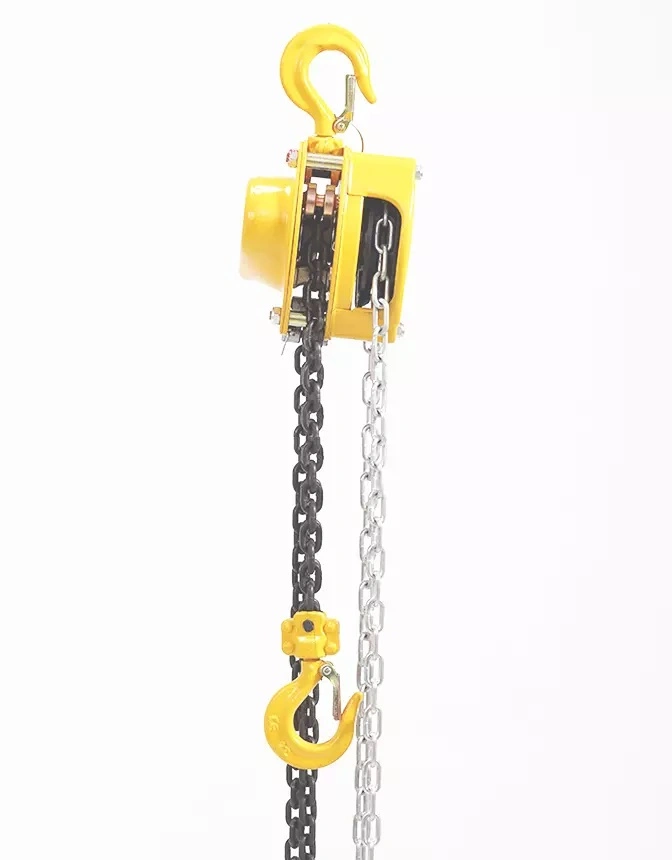 HSZ-CB Chain Block Specifications
Model
HSZ-CB
Capacity
T
1
1.5
2
3
5
10
Standard lifting height
M
2.5
2.5
2.5
3
3
3
Load chain
No. of falls
1
1
1
1
1
4
Dimenshon
6*18
7.1*21
8*24
10*30
10*30
10*30
Force of full load
250
265
335
372
360
380
N.W/G.W
Kg
14.5/14
16.5/17
19.5/20.1
32/34
41.1/43.6
75.7/79.1
Dimension
A
149
176
176
231
249
463
B
153
173
173
185
185
185
C
29
35
35
39
49
54
D
41
51
51
49
67
75
Hmin
352
385
385
445
615
765
Additional weight per 1m lift
kg
0.8
1.1
1.4
2.2
3.8
8.8
Packing pics: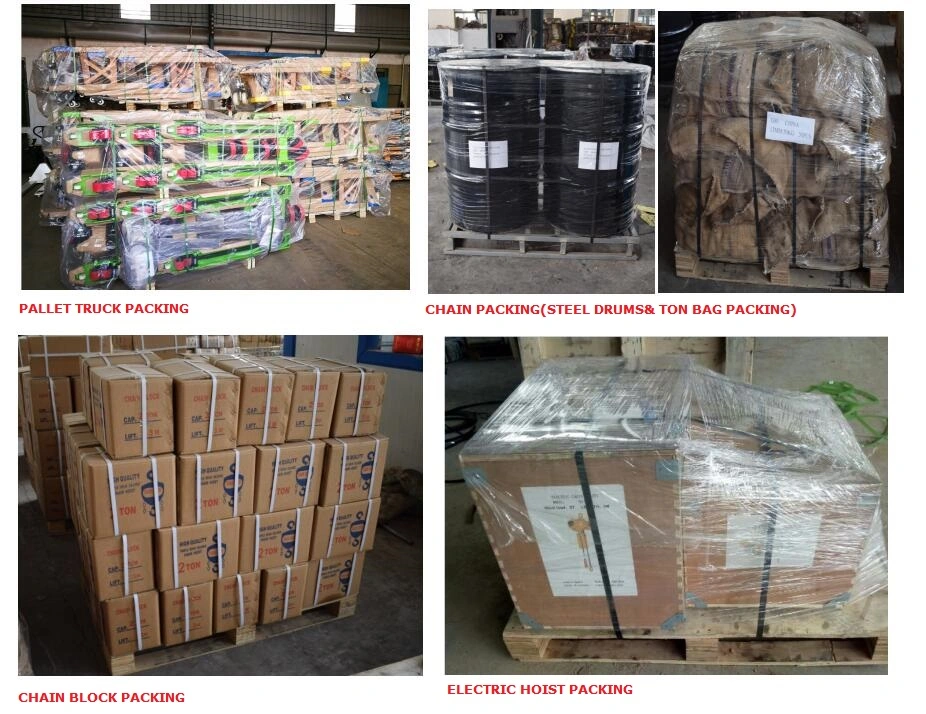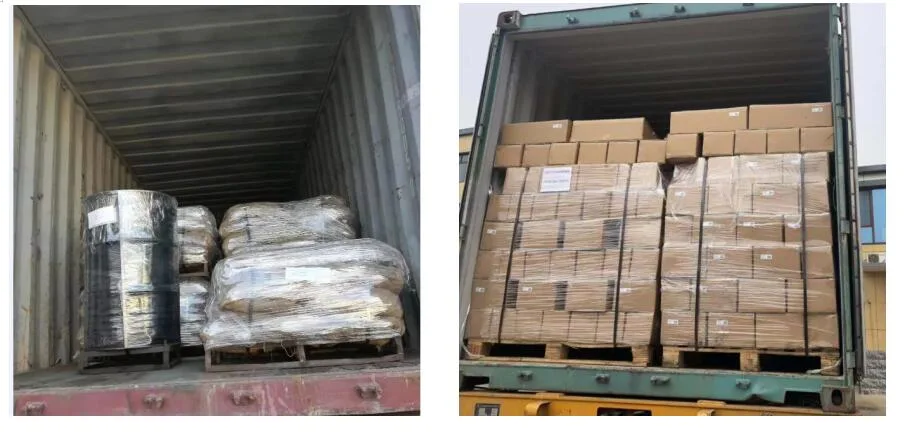 Our company info:
Baoding Jiazhong Hositing Machinery plant is located in the donglv village,we have 23 sets of Automatic chain production equipment .
We specializes in manufacturing standard heavy duty lifting chain (φ4 -φ26), including European Standard chain for rigging, electric block chain and also undertake other special standard chain. Each lifting chain we produced was inspected by our experienced technician who had over 20 years research and producing lifting chain experience, and we also use strict quality control testing system to ensure the products' stability and durability.
As the second largest chain manufacturer, our other hoisting machineries have a huge cost advantage. For hoisting, moving, pulling, driving and conveying, our Huaxin lifting means, Huaxin hoist chains, Huaxin Chain block and Huaxin Electric hoist are a guarantee of quality, innovation and safety.
We looking forward to your inquiry and hope we can have good businessrelationship in future!