Manual Pulley, Plain trolley, Plain Crawl, Manual Crawl
Model: PT-0.5
Capacity(ton): 0.5
Minimum radius of turn(m): 1
Net Weight (kg): 6.9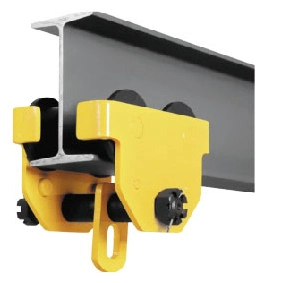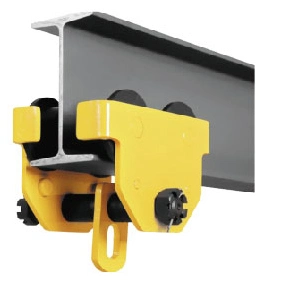 Designed to function on both flat and minor irregular beams surface like I-beam and H-beam
Easy installation and on-site operations
Dual tread iron wheels with high quality sealed ball bearing
Heavy rolled steel side plates with a universal hanging eye, can be coupled closely to most hoists.
Manual Trolley Manual Crawl Plain trolley specifications and drawing:
Manual Trolley Technical Parameters

Model

Capacity

I-Beam recommended A (mm)

I-Beam recommended B(mm)

N.W. (kg)

PT0.5

0.5

75-125

6.9

PT1

1

80-146

64-140

8.7

PT2

2

80-168

76-165

10.4

PT3

3

88-168

76-203

24

PT5

5

100-170

88-203

36

PT10

10

122-203

125-203

83
TXK
was founded in 1997 with 1.5 million USD registered fund in the very beginning and grow up as a leading manufacturer of electric chain hoist, manual chain hoist, electric wire rope hoist and various lifting and material handling equipments with more than 15 years experience and hard work.
Our factory cover an area of 66000 square meters, the biggest workshop in the electric hoist industry in China.
We provide quality, safe and stable products to meet the highest industrial standards. We are ISO9001: 2008 and TUV certified manufacturer, our products are CE, GS, SGS certified, serving all spheres of industry in the world.
Our products are widely used in industry and manufacturing industry and other special purpose, such as mold, wind power, logistics, railway, shipbuilding, bridge construction, factory assembly line, mechanical maintenance platform etc.
The company establishes a global marketing network with exportation to Germany, Norway, Poland, United States, Canada, Mexico, Peru, Brazil, Argentina, Egypt, Saudi Arabia, South Africa, India, Indonesia, Malaysia and total more than 50 countries and regions.