Portable Electric Boat Winch with 12000 lbs Pulling Capacity (JK)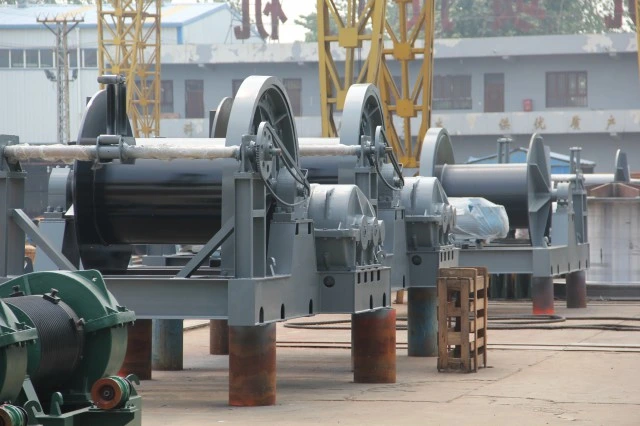 There are two type in this series, small pull capacity and large pull capacity. Large pull capacity mostly are applicable to port building, traction of shipyard, steel structure transport and assemble, disassemble, pulling machines. Its feature is that line rope pull large, sometimes with rope guider for wire rope dispose trimly, safety and credible.
Small pull capacity mostly are applicable for construction, lifting, disassembly, traction, assembly in construction company, mine, factory and so on.
Customer Care:
Our philosophy is that the customer should be happy with the system performance and enormous
Improvement in work environment and also reduction of labour inputs for eternity working together
With customer and ensuring that the work is executed to the utmost satisfaction of the customer.
Model
JK1
JK3
JK5
JK8
JK10
Line pull capacity (kg)
1000
3000
5000
8000
10000
Wire rope average speed (m/min)
30
30
28
20
19
Wire rope Dia. ( mm):
9.3
15.5
21.5
26
30
Reduction box
Type
JZQ350
JZQ500
JZQ650
JZQ650
JZQ750
Transmission ratio
31.5
23.34
40.17
23.34
23.34
Drum (mm)
Diameter()
190
325
406
500
550
Length
360
520
840
900
1000
Capacity(m)
110
200
300
300
450
motor
Type
Y132M-4
YZR225M-8
YZR250M1-8
YZR250M1-6
YZR250M2-6
Power(kW)
7.5
22
30
37
45
Rotating speed(r/min)
1440
715
864
960
960
Hydraulic Brake
YWZ-200/25
YWZ-200/25
YWZ-300/45
YWZ-300/45
YWZ-400
Dimension (cm)
945x97x60
147x140x95
186x166x95
240x180x110
250x190x120
Weight(kg)
460
1200
2700
4000
5000