1 Ton HHBB Electric Chain Hoists/ 1 Ton Polipasto Electrico De Cadena Hoist

Technical Specification

1t Electric Chain Hoist with Single Speed

Model

HHBB01-01SM

Capacity(t)

1

Standard Lifting Height(m)

3

Lifting Speed(m/min)

6.6

Lifting Motor

Power(kw)

1.5

Rotation Speed(r/min)

1440

Phases

3

Voltage(v)

200-660

Frequency(Hz)

50/60

Operating Motor
(Electric Trolley Type)

Power(kw)

0.4

Rotation Speed(r/min)

1440

Operating Speed(m/min)

11/21

Phases

3

Volatge(v)

200-660

Frequency(Hz)

50/60

Load Chain Falls

1

Chain Specification

Ø7.1

Test Load(t)

1.25

Weight(kg)

61

I-Beam(mm)
(Electric Trolley Type)

58-153

Chain Add Weight Per Meter(Kgs)

1.1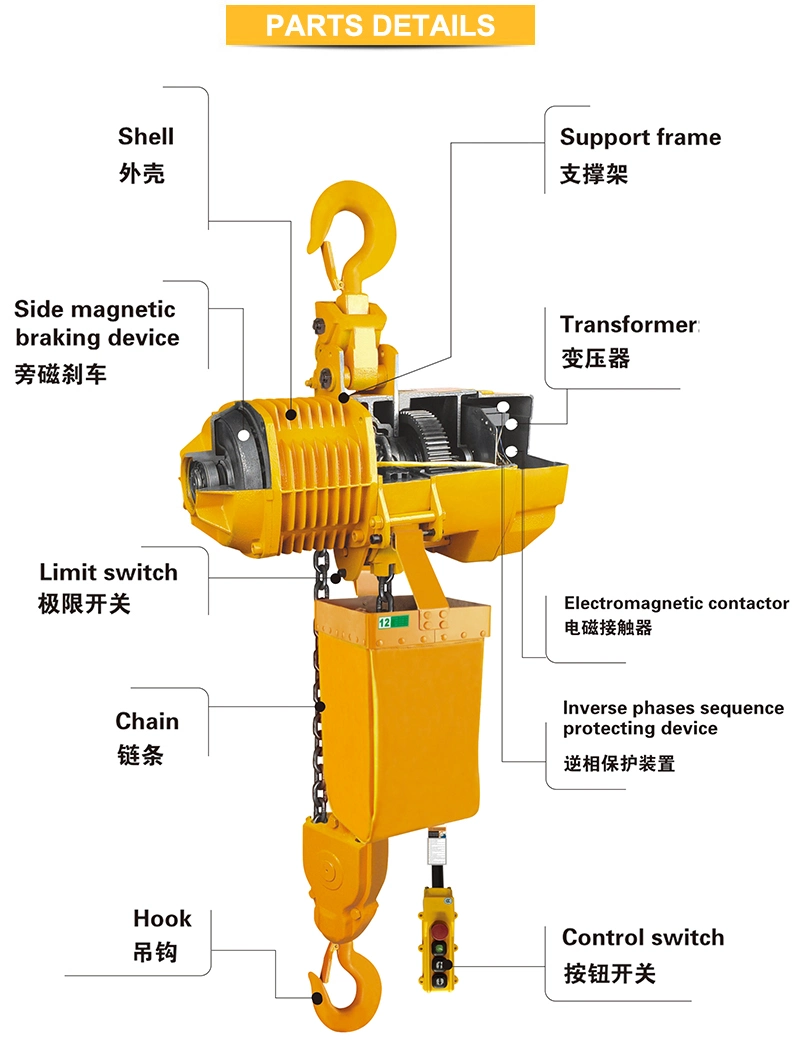 * Sheel:
1. The Maxload Electric Chain Hoist is made of light aluminum alloy shell, light but hard.
2. With cooling fin, easy and quick Bring the Heat out.
* Break System:
1. Side Magnetic Braking Device, Ensure lock the hoist
2. Mechanical braker, Dual braking system, much more safety.
* Limit Switch:
With up & down Limit Switch, to prohibit the chains from exceeding for safety.
* Chain:
FEC G80 Chain, Origina imported from Japan. Anti-Rust and Anti-corrosion
* Electromagnetic contactor:
1. With Schneider Electric (TESSIC), can be used safely under high frequency.
2. Can be installed Variable-Vrequency Drive (VFD Electric) Can be suitable for Singlle Phase Power supply.
* Inverse phase sequence protecting device:
It is sepcial electrical installation which controls the circuit not to work in case of wiring error in the power supply.
* Gear:
The gear made of alloy steel, Through the heat treatment.
* Level of Protection Grade(IP Grade):
1. Hoist IP Grade: IP54
2. Push Buttom IP Grade: IP65
* Power supply:
All kinds of voltage can be custom-made. 200V-660V, 50HZ/60HZ, 1P/3P
* Working Grade:



Shanghai Maxload Cranes & Hoists Co., Ltd. is a professional Cranes and Hoists Manufacturer in Shanghai China.
Maxload Company Specialized in Design, manufacture, sales and service of lifting machinery such as Electric Chain Hoist, Electric Wire Rope Hoist Gear Motor and other Heavy Duty Lifting machinery.
The Maxload company obtained advanced Germany & Japan technology to developed series Europe Type Electric wire rope hoist and Japan Type Electric chain hoist. Besides excellent performance and fashionable appearance, all the products are adopted modularization design, conform to FEM /ISO Standard and Quality Test Standard.

The Maxload Company located in Shanghai city, from the Shanghai Pudong International Air Port takes one hour to Maxload Company.
The Maxload Company Completely passed ISO, CE, SGS, TUV, GS and other quality Test Certificates, The Maxload Company sales term has export the products to South and North America, Middle East, Southeast Asia, Europe, Australia and all over the World.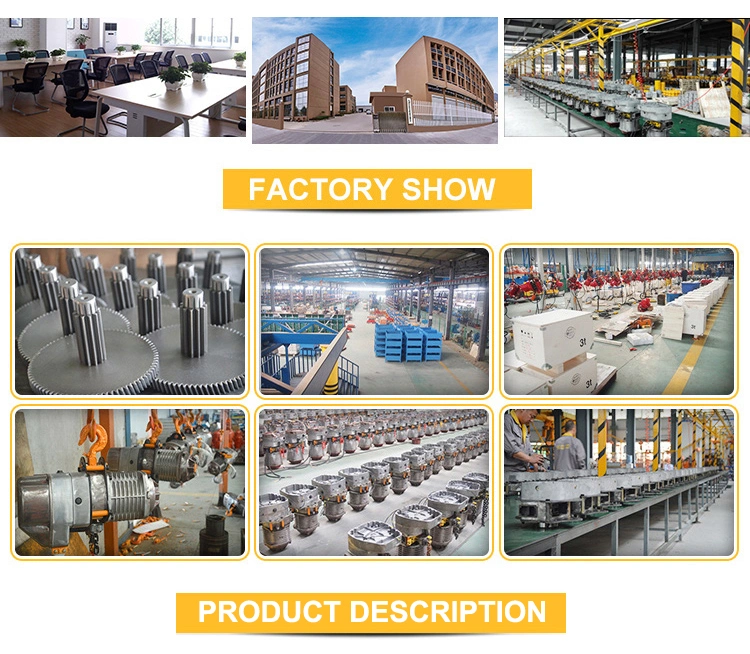 Maxload Electric Chain hoist is typical of unique optimal structure in shortening the distance between the machine body and the beam tracks, applicable to operations in side low buildings, especially suitable for use in temporarily erected plant buildings or on the sites where expansion of effective hoisting spaces inside the buildings is required the Most important parts of the Machine is Chain and brake system.